GRADONARCHITECTURE are continuing to lead the way with careers partnerships in Schools following the success of their design competition for pupils to create a winning careers fair stand.
The competition was open to students from year 7 to year 13 at St. Thomas More Catholic School in Blaydon, where students were given the brief of designing a careers stand for GRADONARCHITECTURE, with the winning design being adapted to use for future careers events. With the competition being led by a mixed team of architects and technologists at Gradon, the students were given six weeks to come up with their designs and present them to the Gradon judging panel.
Each of the ten entries were presented to the judges alongside sketches and computer modelled images and the winning design was awarded to year 10 student Eva Crozier who impressed the Gradon judges with her creative and detailed sketches, showing her design process from conception to construction. Eva will begin a week's internship at Gradon as part of her prize, giving her the chance to collaborate with members of the team on her design, as well as gaining valuable work experience as she hopes to pursue a future career in architecture.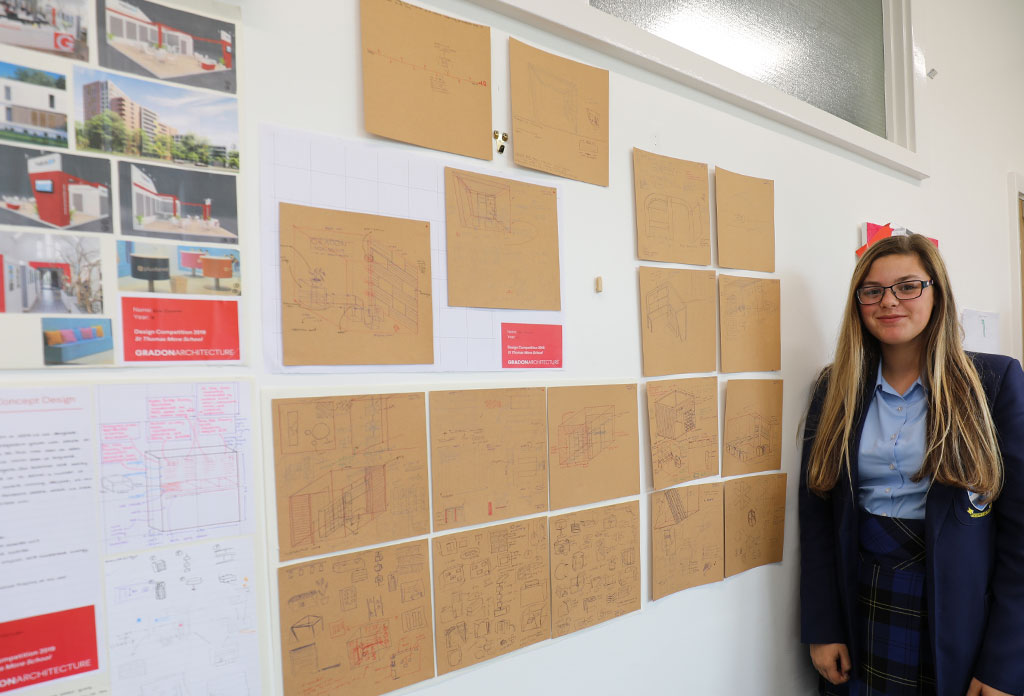 Mrs. Bobby McAdam, the CEIAD (Careers education, information, advice and guidance) coordinator at St. Thomas More commented on the success of the event saying, "It's been a hugely positive experience working in such close proximity with a local employer like Gradon. They have supported our school in a number of activities, and it has been an insightful experience for the students in terms of learning aspects of teamwork, working together to collaboratively come up with ideas. The experience has also given the students a realistic insight into the architectural industry."
The importance of early career development is integral to the business ethos of Gradon, who have also seen their first apprentice Connor Newton successfully graduate with first class honours this year from Northumbria University, as part of their self-funded apprenticeship scheme.
Graham McDarby, Managing Director said, "It has been great to see such enthusiasm and talent during this competition from each pupil, and the team at Gradon have been hugely impressed with the hard work put into each design. We believe that supporting early career development and work experience skills is hugely important for pupils of all provide students with essential educational and employment skills they can use later on in life."